Hinged front menu cover to accommodate individual menu pages.
A radically distinctive look.
Material is turned over rigid board for superior durability and longevity.
Personalize each menu cover with custom decoration of your restaurants name and / or logo.
Add and remove sheets as your menu changes.
Clear vinyl sheet protectors available.
NUMBER OF VIEWS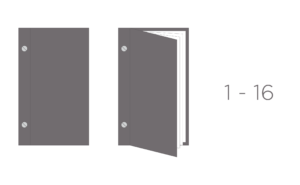 POPULAR SHEET SIZES
8.5"W x 11"H – Standard Letter
8.5"W x 14"H – Standard Legal
4.25"W x 11"H or 5.5"W x 8.5"H – Half Letter
4.25"W x 14"H or 7"W x 8.5"H – Half Legal
5.25"W x 11"H or 5.25"W x 14"H
7"W x 5"H
Other sizes available.