Book style covers with optional clear copy safe vinyl inserts.
Cover your menu with the colour and texture to match your decor.
Personalize each menu cover with custom decoration of your restaurants name and / or logo.
Refined way to hold multiple pages.
NUMBER OF VIEWS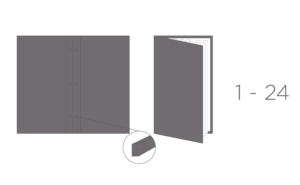 POPULAR SHEET SIZES
8.5"W x 11"H – Standard Letter
8.5"W x 14"H – Standard Legal
4.25"W x 11"H or 5.5"W x 8.5"H – Half Letter
4.25"W x 14"H or 7"W x 8.5"H – Half Legal
5.25"W x 11"H or 5.25"W x 14"H
7"W x 5"H
Other sizes available.